Bert McCracken: Vocals
Quinn Allman: Guitar
Jeph Howard: Bass
Branden Steineckert: Drums


ON MY OWN

see all those people
on the ground
wasting time
i try to hold it all
inside
but just for tonight
the top of the world
sitting here wishing
the things I've become
that something is
missing
maybe I...
but what do I know

and now it seems that
i have found
nothing at all
I want to hear your voice
out loud
slow it down
without it all
I'm choking on nothing
it's clear in my head
and I'm screaming for
something
knowing nothing is better
than knowing at all

On My Own

TAKE IT AWAY

I'm lying to myself
and this dagger's my excuse.
I'm a pawn I should have
paid up and i left an hour late.
I was laid up.
I must abuse myself i'm
against all that i have made up.
Set in stone the sun will come
and i hate the light you know.
I hate the light.
To me it looks so pretty burning.
I must have caught something
in the heat of all these dances.
I'm a worm with no more
chances and I've lost all doubt in
a chemical romance.
I can't stop itching
over thoughts of tarnished hope-
kinda funny lonely feeling I'm
not in love you know it's not love.
To me it looks so pretty burning.
Burn the sun burn the light take
my hand take my life take it away brothers.
And sisters I'm right here with you
cause everyone's
got one a story to kill me I'm.
So apathetic in my resentment
living loving knowing not.
Take my hand
take my life.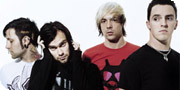 BLUE AND YELLOW

and it's all in how you
mix the two
and it starts just where the
light exists
it's a feeling that you
cannot miss
and it burns a hole
through everyone that feels it

well your never gonna find it
if your looking for it
won't come your way
well you'll never find it
if your looking for it

should've done something but
I've done it enough
by the way your
hands were shaking
rather waste some time with you

and you never would
have though in the end
how amazing it feels
just to live again
it's a feeling that you
cannot miss
it burns a hole through
everyone that feels it

should've said something
but I've said it enough
by the way my words were faded
rather waste some time with you